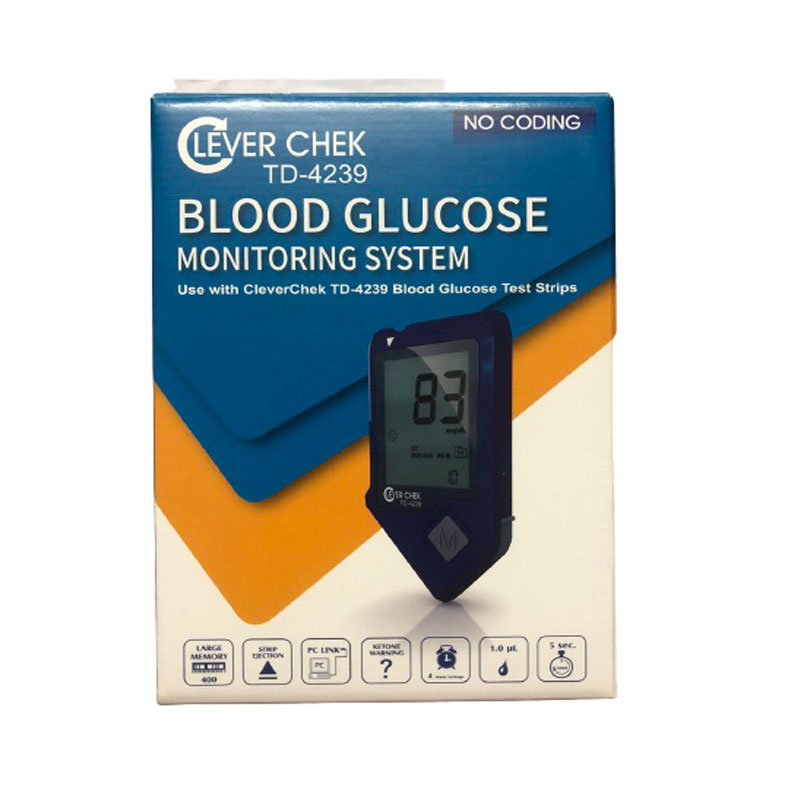 Brand: CLEVERCHEK / Model: TD4239

Details:
Blood Glucose meter is intended for using outside the human body (in vitro
diagnostic use) at home and in clinical settings for checking sugar level in the body. The results you get from our test system can help you and your healthcare professionals monitor and adjust your treatment plan to control your diabetes better.
The new CLEVERCHEK Gluco meter Model-TD4239 has the latest technology and the unique features giving best accuracy ever for better diagnosis of sugar level and better health care for home and clinical use.

Special Features & Functions of CleverChek (TD-4239):
No coding required
Strip Ejection Function
Hematocrit Interference correction (HIC) – No Interference due to low/high hematocrit level in patients
Medication Interference correction (MIC) – No Interference from Vitamin C(Absorbic Acid)
Both Venous and Capillary blood can be tested
400 memory with date & time
Ketone warning
3 modes: General / Fasting / P.P modes
Bigger screen/LCD
Alternate Site Testing (AST)
Can be used for Neonatal Sugar test
Life Time Warranty
Comes with 10 test strips & 10 lancets in the set
Note: Prices are subjected to change at the time of delivery according to manufacturer's policy.