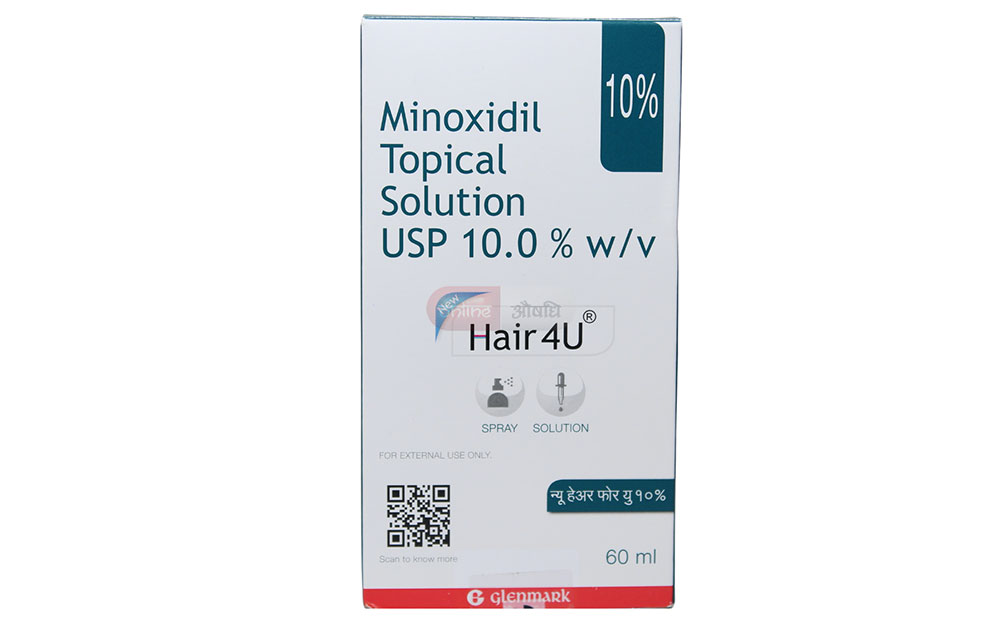 Hair 4u 10% spray60ml Uses
This Solution is used to treat common hereditary hair loss. It can prevent further hair loss and help hair to re-grow. It works by increasing blood flow to the hair follicles on your scalp, which prevents hair cell death and also enhances new hair growth. It is most effective for baldness or thinning at the top of the scalp but less effective at the front or for receding hairline. Benefits are less likely if you have been bald for many years or have a large area of hair loss. $name is not suitable for sudden or unexplained hair loss. It is considered as a safe medicine. However, hair that has re-grown may disappear after a few months. Re-growth of hair can be beneficial to your mood, self-esteem as well as your appearance, but you need to use it regularly to get the benefits. There are separate products for men and women.

How Hair 4u 10% spray60ml works
This Solution belongs to a class of drugs known as vasodilators. It is used to promote hair growth after hereditary hair loss (male pattern baldness). It is not used for sudden, patchy or unexplained hair loss.

This Solution should only be applied directly to the scalp area in the amount, and in the way, specified on the label or by your doctor. Clean and dry your scalp before using it. It may take several months before you notice any hair growth and the first growth may be soft, colourless and barely visible. Using more than recommended will not speed up hair growth and may cause dangerous side effects. This medication must be used continuously to maintain hair growth. If your condition does not improve or worsens after using it for 4 to 6 months, tell your doctor.

This Solution is generally safe and suitable for most people but may have some potential side effects. The most common are itching or irritation of the scalp and unwanted hair growth in other places (not your scalp). It may also make you feel unwell and change the color and texture of your hair. If this happens, inform your doctor. If this medicine gets into the bloodstream it can cause side effects related to low blood pressure such as chest pain, rapid heartbeat and dizziness, swollen hands and feet. This should not happen if you use it correctly and avoid contact with broken skin. If you get it in your eyes, mouth or broken skin, rinse thoroughly with plenty of water. Talk to your doctor if you are bothered by side effects or they do not go away.

This Solution should not normally be used by people under the age of 18 or over 65. It may not be appropriate if your hair loss is due to medications (such as chemotherapy) or any nutritional deficiency. You should also not use this medicine if you have high blood pressure or are using other creams or lotions to treat other scalp conditions. Talk to your doctor if you have heart disease or blood circulation problems.

Common side effects of Hair 4u 10% spray60ml
Most side effects do not require any medical attention and disappear as your body adjusts to the medicine. Consult your doctor if they persist or if you're worried about them.
Common side effects are
- Excessive hair growth on face
- Rash
- Edema (swelling)
- Skin irritation

Hair 4U 10% Solution helps to strengthen the hair follicles. It is the topical treatment for androgenic alopecia or male pattern baldness. It is not suitable for use by women with female pattern baldness. It fortifies the hair from the roots and helps to repair the split ends. It gets deeply absorbed into the scalp by providing nourishment to the hair. It cannot cure baldness, but can prevent the progression of hair loss in the frontal areas of the scalp as well as the vertex area.
This solution directly stimulates the hair follicles to grow by increasing blood flow in the scalp and enhancing cell proliferation in hair follicles that were in resting phase. It is most effective where hair loss has just started or is recent and there are smaller areas of hair loss of the vertex.
Hair 4U 10% Solution stimulates the longer hair follicles to initiate new hair growth. Shop it online from The Health Tree with huge discounts.
Benefits of Hair 4U 10% Solution Solution :


Reduces the hair fall


Helps to regain the new hair


Enriched with minoxidil that diminish hair fall


Clinically tested to be safe and natural


Prevents the premature graying of the hair


Helps the hair to grow longer and thicker


Reduces the hair split ends


Increases the tensile strength of your hair


Ingredients:
Minoxidil IP-10.0% w/v
Absolute Alcohol- 40.0% v/v
Dosage: 1 ml have to be used in morning and night
Note: Prices are subjected to change at the time of delivery according to manufacturer's policy.