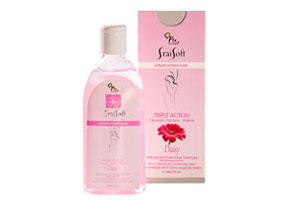 Fixderma Sraisoft Hygiene Wash for intimate area is scientifically formulated to
promote the body's natural vaginal balance and strengthen the vaginal immunity.
ATTRIBUTES


Helps whiten the intimate area


Helps to reduce inflammation in the vagina


Helps to reduce excess vaginal discharge


Helps to prevent unpleasant odors


Helps to provide tightening effect


Packing: 01 bottle 100g/ box


Storage Condition:
Store in a cool and dry place. Do not freeze
Note: Prices are subjected to change at the time of delivery according to manufacturer's policy.