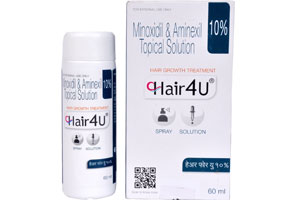 Indications:
Minoxidil is used in the treatment of?high blood pressure.

Uses:
Minoxidil is a vasodilator. It works by relaxing blood vessels, allowing more blood and oxygen to reach the heart and other organs. This lowers the blood pressure.

Side effects:
Increased heart rate, Pericarditis, Fluid retention, Edema (swelling), Hair discolouration, Hypertrichosis, Pericardial effusion

Hair 4U 10% Solution helps to strengthen the hair follicles. It is the topical treatment for androgenic alopecia or male pattern baldness. It is not suitable for use by women with female pattern baldness. It fortifies the hair from the roots and helps to repair the split ends. It gets deeply absorbed into the scalp by providing nourishment to the hair. It cannot cure baldness, but can prevent the progression of hair loss in the frontal areas of the scalp as well as the vertex area.
This solution directly stimulates the hair follicles to grow by increasing blood flow in the scalp and enhancing cell proliferation in hair follicles that were in resting phase. It is most effective where hair loss has just started or is recent and there are smaller areas of hair loss of the vertex.
Hair 4U 10% Solution stimulates the longer hair follicles to initiate new hair growth. Shop it online from The Health Tree with huge discounts.
Benefits of Hair 4U 10% Solution Solution :


Reduces the hair fall


Helps to regain the new hair


Enriched with minoxidil that diminish hair fall


Clinically tested to be safe and natural


Prevents the premature graying of the hair


Helps the hair to grow longer and thicker


Reduces the hair split ends


Increases the tensile strength of your hair


Ingredients:
Minoxidil IP-10.0% w/v
Absolute Alcohol- 40.0% v/v
Dosage: 1 ml have to be used in morning and night
Note: Prices are subjected to change at the time of delivery according to manufacturer's policy.